GREEK MUSIC JOURNEY 2020
FRIDAY, MAY 15, 2020 | 8:30PM
GREEK SINGING SENSATION
KOSTAS MAKEDONAS
ACCOMPANIED BY HIS BAND AND SINGER ELENI ANDREOU
BUY TICKETS ONLINE OR CHARGE BY PHONE 718-545-1151
PERFORMING AT THE KAYE PLAYHOUSE AT HUNTER COLLEGE
E. 68TH ST. BET. PARK & LEXIGTON AVES, NYC
SEE THE THEATER SEATING CHART HERE
ABOUT THE CONCERT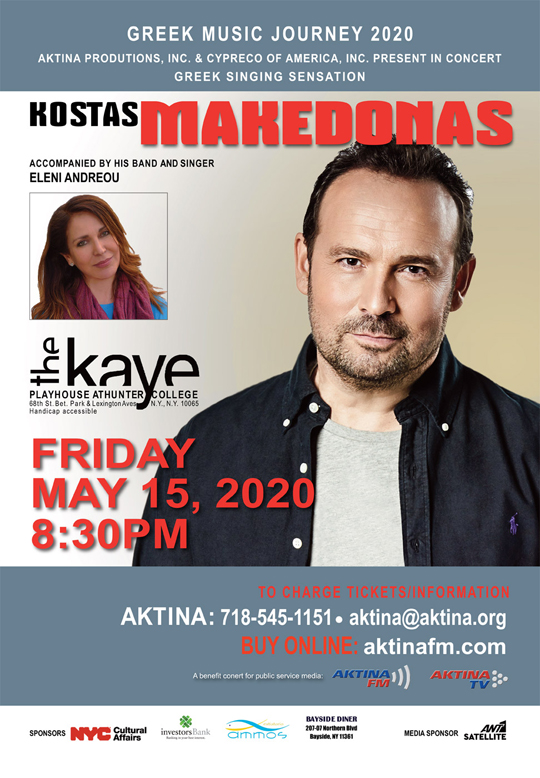 Geek Music Journey 2020 brings back to New York, Greek singing sensation Kostas Makedonas accompanied by his 5-member band and the talented singer Eleni Andreou, in yet another amazing concert at Manhattan's landmark theater, The Kaye Playhouse at Hunter College on Friday, May 15th at 8:30pm. Produced by Elena Maroulleti, the concert will last for 2 1/2 hours. It will celebrate timeless Laika (popular folk) songs from the rich discography of Makedonas comprised by over 15 albums and which highlight his vibrant career over the last three decades, a career which is crowned with exceptional collaborations with prominent composers such as Christos Nikolopoulos, Stamatis Kraounakis, Yiannis Markopoulos, Yiorgos Theofanous and many others. The repertoire will also include beloved classics by renowned composers such as Mikis Theodorakis (Zorba The Greek), Stavros Kouyioumtzis and others, as well as rembetika (Greek blues) by the legends Vasilis Tsitsanis, Markos Vamvakaris, George Zambetas, among others. Greek American popular singer, Eleni Andreou with her charismatic voice and talent will accompany Kostas Makedonas during this unique musical performance that promises to fully engage the audience from beginning to end.
Greek Music Journey 2020 with Kostas Makedonas is co-presented by the non-profit organizations, AKTINA Productions, Inc., and CYPRECO Of America, Inc., and it is given to benefit public service media, AKTINA FM and AKTINA TV which are also co-sponsored by these two non-profits.
CLICK AND WATCH LATEST HIT MUSIC VIDEO OF MAKEDONAS
Kostas Makedonas, who made his debut personal performance in the U.S., for AKTINA's Greek Music Journey 2007 and captivated the audience, promises to lovers of Greek music, yet another mesmerizing performance that no should miss!
PURCHASE YOUR TICKETS TODAY!

Prices: $95, $70 Orchestra | $60 Balcony | $40 Rear Balcony | $65 Wheelchair.
Charge your tickets today by calling us at 718-545-1151 or purchase online. A handling/processing fee applies for every ticket purchase. All sales are final. No exchanges/refunds. Tickets will not be sold at the theater box office and are only available through the organizers. For the Kaye Playhouse Seating Chart click here.
WARNING: It is strictly prohibited for any third party to reproduce, re-use or distribute any images, logos and photos posted on this website without the written concent and approval of CYPRECO OF America, Inc., and of all other third parties whose photos, images or logos are featured. All rights reserved.
Read more: Greek Music Journey 2020 Kostas Makedonas In Concert