AKTINA TV GREEK AMERICAN TELEVISION SHOW
MISSION, VISION & VALUES
To promote and enhance the knowledge about the rich heritage, history, culture and folklore of Greece and Cyprus, provide news, local reports, information and entertainment for the benefit of Greek and Greek Cypriot Americans of all generations and of the general public and to support Greek and Cypriot Americans preserve their ancestral roots and culture.
IMPLEMENTING OUR MISSION & VISION
AKTINA TV pursues its mission with integrity and respect striving always to preserve and further strengthen the trust and respect it has earned over the years from the vast and diverse audience it services as the only English-language Greek American TV show in New York Metropolitan area and beyond.
Broadcasting in English, with sub-titles and with close captioning applied to all of its English language programs, AKTINA TV, a commercial-free TV Show implements its vision of being an essential and independent source of news and unique cultural programming not available elsewhere for the benefit of Greek and Cypriot Americans of the new generations whose first language is English and for non-Greek speaking audiences. Thanks to its English-language broadcasting format, AKTINA TV has grown to become very popular and highly rated Greek American TV show on WNYE Channel 25, the station where it leases airtime. AKTINA TV creates and provides commercial-free content that: Informs, inspires, enlightens and entertains; enriches the knowledge and provides better understanding about Hellenic culture, Greece and Cyprus; supports Greek and Greek Cypriot Americans to preserve their cultural inheritance and strengthen their bonds with their ancestral roots.
AKTINA TV further pursues its mission with a vibrant presence on YouTube where it maintains since 2003 its own Channel. The AKTINA TV YouTube Channel is a very popular subscription-free social media outlet with over 6 thousand subscribers which continue to grow and with views of its videos in the millions.
All visitors have easy access to our various available Video Playlists such as, Greek Music Journey Concert Series (GMJ) showcasing videos from our concerts with notable artists from Greece as well as with local artists, TV Reports covering local news stories as well as news stories from Cyprus and Greece and special reports from around the New York-based Greek and Cypriot American community and beyond, Mini-Documentaries highlighting the cultures and ancient sites of Cyprus with original content shot on location and other generic playlists with videos of wide public interest.
Recognized and multi-awarded for its contributions as an essential New York-based Greek American Television broadcaster, AKTINA TV remains committed to continue its public service mission of delivering unique and highly desired content not available on the mainstream media.

WE PUT OUR VALUES FORTH ON THE AIR
AKTINA TV delivers the latest news from around the world with special emphasis to news from Cyprus and Greece, original mini documentaries highlighting the rich history, culture and folklore of Cyprus and Greece, special reports and feature stories from around New York and the Greek American community, interviews with distinguished guests and elected officials discussing a wide variety of topics of public interest and the finest of entertainment with music videos covering all aspects of the representative music and songs of Greece and Cyprus. Several of AKTINA TV's mini-documentaries, special reports, feature stories and music videos are also available on its youtube channel. Subscribe today for free and follow AKTINA TV on youtube!
WE VALUE YOUR PRIVACY: Your privacy and security is of outmost importance to us. In our Privacy Policy we disclose the practices and security measures we use to protect your privacy and security when you visit and use this website.

VIBRANT ONGOING PRESENCE SINCE 2002
AKTINA TV, the first and only Greek American TV show established in New York City with an English-language format has been broadcasting on public station WNYE Channel 25 since its inception in April 2002. Founded by Elena Maroulleti, an independent journalist who is also the show's Producer and Host, AKTINA TV is owned and operated by AKTINA Productions, Inc., a non-profit and tax-exempt 501 (c) 3 Media and Arts Cultural Organization. AKTINA TV is preserved on the air through generous public contributions, through partial discretionary funding from the New York City Council and other NYC local government agencies and through underwriting.
OUTREACH - LEADERSHIP
AKTINA TV prides itself for being a highly rated television show, for sustaining an ongoing vibrant presence on WNYE Channel 25 and for being the only Greek American TV show available on a local New York channel with a wide coverage area that is offered for free and without any subscription. WNYE Channel 25 is also carried for free on all cable and satellite providers in New York City and beyond. See below the list of carriers.
Broadcasting every Sunday at 6pm, AKTINA TV addresses some 1M viewers within the wide coverage area of WNYE Channel 25 which includes the entire New York Metropolitan, several counties in New Jersey and the outskirts of Pennsylvania. Please see coverage map below.

DISTINGUISHED HONORS
AKTINA TV is a leading Greek American TV show for the promotion and preservation of the rich heritage, folklore and cultures of Greece and Cyprus and for the delivery of unique content, including news and information not available elsewhere.
AKTINA TV RELIES ON YOUR SUPPORT!
CLICK ON THE DONATE BOX BELOW AND JOIN TODAY OUR BIG FAMILY OF SUPPORTERS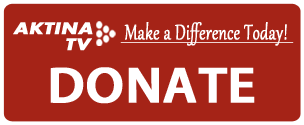 NO CONTRIBUTION IS SMALL!
All contributions are tax-deductible under 501 (c) 3 of the IRS

SUBSCRIBE FOR FREE TO THE AKTINA TV YOUTUBE CHANNEL
LIKE AND FOLLOW AKTINA ON FACEBOOK

THE SMART CHOICE!



WNYE CARRIERS - WHERE TO WATCH AKTINA TV IN THE TRI-STATE AREA OF NEW YORK

WNYE CHANNEL 25 COVERAGE MAP AREA