GREEK MUSIC JOURNEY 2018

"ODE TO GREEK SONG AND THE MAGIC OF BOUZOUKI"!

FEATURING THE DISTINGUISHED ARTISTS FROM GREECE

ANDREAS KARANTINIS, MANOLIS ANDROULIDAKIS WITH HIS BAND
VASILIKI STEFANOU AND ARIS KAMPANOS

FRIDAY, APRIL 20, 2017, 8:30PM AT THE KAYE PLAYHOUSE AT HUNTER COLLEGE

BUY TICKETS ONLINE OR CHARGE BY PHONE 718-545-1151

FOR THE THEATER SEATING CHART CLICK HERE

WATCH VIDEO OF ANDREAS KARANTINIS AND MANOLIS ANDROULIDAKIS
FROM AKTINA'S GREEK MUSIC JOURNEY 2013

ABOUT THE CONCERT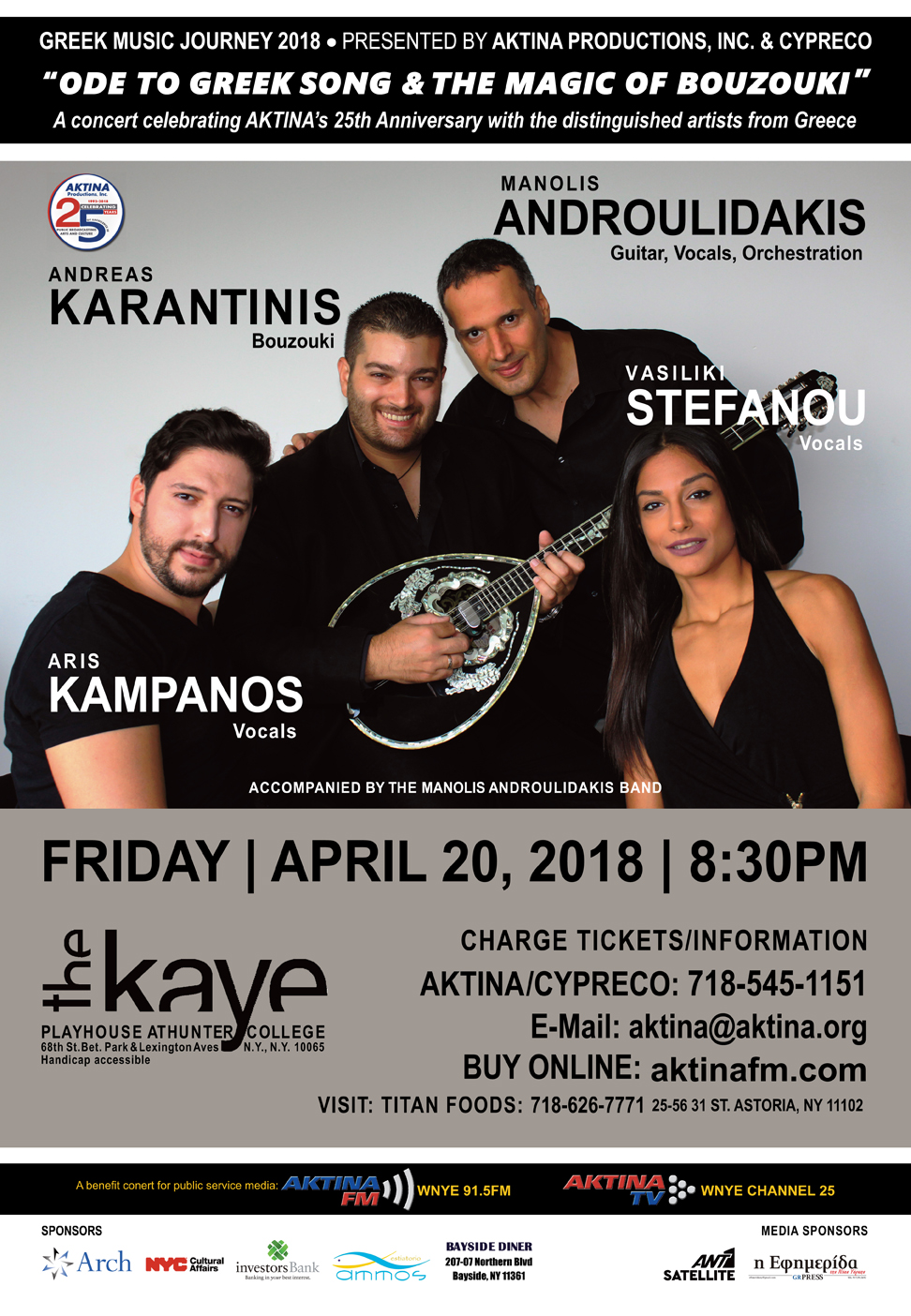 Continuing its mission of producing very unique musical performances for the benefit of Greek and non-Greek lovers of Greek music in New York's Metropolitan area and beyond, AKTINA has teamed up once again with CYPRECO and together proudly present Greek Music Journey 2018 on Friday, April 20th at 8:30pm at New York's landmark theater, The Kaye Playhouse at Hunter College in Manhattan. The concert which also celebrates the 25th anniversary of AKTINA Productions, Inc., and of public service radio AKTINA FM, will feature a wide spectrum of the most representative and loved songs of the Greek music repertoire.
The renowed and distinguished artists from Greece, Andreas Karantinis, bouzouki, Manolis Androulidakis, guitar/vocals and his band and singers Vasiliki Stefanou and Aris Kampanos will revive the legendary rembetika (Greek blues) and laika by great Greek composers and songwriters. As this concert is also dedicated to the "magic of bouzouki", the lead musical instrument for the rembetika and laika songs, the performance will also highlight exceptional bouzouki solos with Andreas Karantinis and the band.
This benefit concert for public service media, AKTINA FM-WNYE 91.5FM and AKTINA TV-WNYE Channel 25, is produced by Elena Maroulleti and co-presented by the non-profit cultural organizations, AKTINA Productions, Inc., and CYPRECO Of America, Inc.

Secure your seats early!

PURCHASE YOUR TICKETS TODAY

Prices: $95, $70 Orchestra | $60 Balcony | $40 Rear Balcony | $65 ADA Seating
Buy tickets online or charge by phone by calling us at 718-545-1151. A $5 handling/processing fee applies for every ticket purchase when charging by phone. For the Kaye Playhouse Seating Chart click here. For cash purchases please visit TITAN Foods, 25-56 31st Street, Astoria, NY 11102.
Read more: Greek Music Journey 2018 The Magic Of Bouzouki - Ode To Greek Song