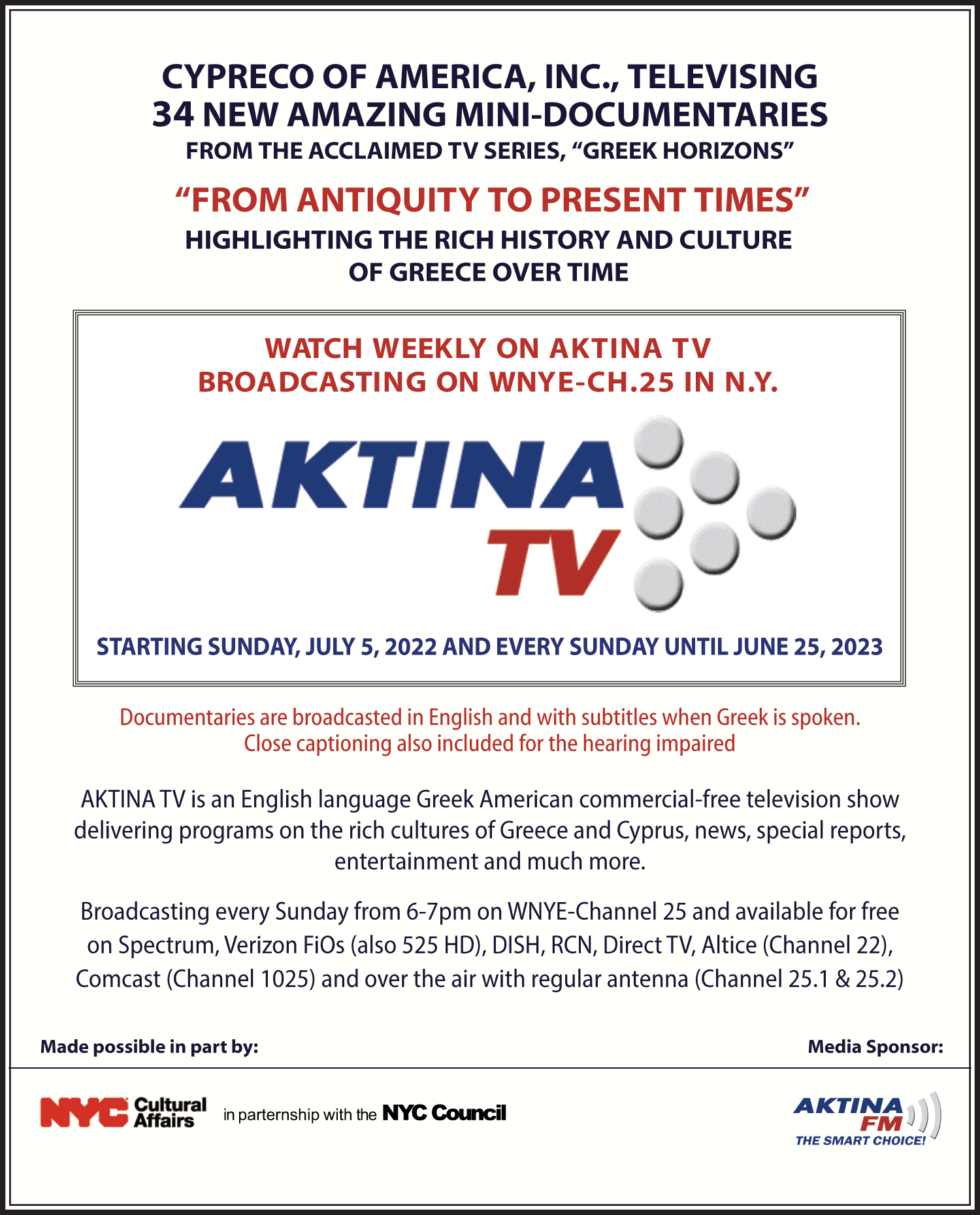 CYPRECO PRESENTS ON AKTINA TV NEW DOCUMENTARIES THAT SHOWCASE
THE UNIQUE ASPECTS OF THE RICH CULTURE OF GREECE THAT IS REPRESENTATIVE
TO GREEK AND GREEK CYPRIOT IMMIGRANTS


Continuing its collaboration with the highly rated AKTINA TV broadcasting on New York's public station, WNYE Channel 25, and its mission of servicing and helping Greek and Greek Cypriot American immigrants preserve their rich history and culture which is so unique to them, CYPRECO has lined up new documentaries which are being televised starting Sunday, July 5, 2022 through Sunday, June 25, 2023.
Some documentaries highlight the present thriving preserved Greek culture and others offer details and understanding about the various contributions the Greeks have made with their discoveries over the centuries, including the impact and even the dominance these discoveries hold in today's world in various fields, e.g., governance, politics, philosophy, education, medicine, tools of medicine, athletics, ancient Olympics, among other.


The presentation of these documentaries supports our cultural mission and philosophy that it is for outmost importance for Greek and Greek Cypriot American immigrants to be able to keep in touch with their unique ancestral roots, history and culture and furthermore, it is equally important for the wide and diverse New York audience we also serve to further discover and appreciate the Greek cultural inheritance of their fellow New Yorkers from the Greek and Greek Cypriot American immigrant community.


AKTINA TV, a highly rated and multi-awarded TV show on the air since 2002 with an impressive audience of some 1M in the New York Metropolitan area and beyond, is the perfect media platform for the presentation of our documentaries. At the comfort of their home AKTINA TV's loyal viewers comprised by Greek and Greek Cypriot Americans and New Yorkers from all other ethnic backgrounds, at no cost to them enjoy them for free, while if they cannot watch them live they also record them.


AKTINA TV, a commercial-free English language Greek American TV show airs Sundays from 6:00pm-7:00pm on New York's public station WNYE-Channel 25. Our channel is offered for free and without any subscription. Furthermore, it is also carried for free on all local cable and satellite providers such as Verizon FiOs, DISH Network, Direct TV, RCN, Altice and Comcast. For more information about our carriers please click here.


The presentation of CYPRECO's documentaries on AKTINA TV is made possible in part by The New York City Department of Cultural Affairs in partenship with The New York City Council. Media Sponsor: AKTINA FM.