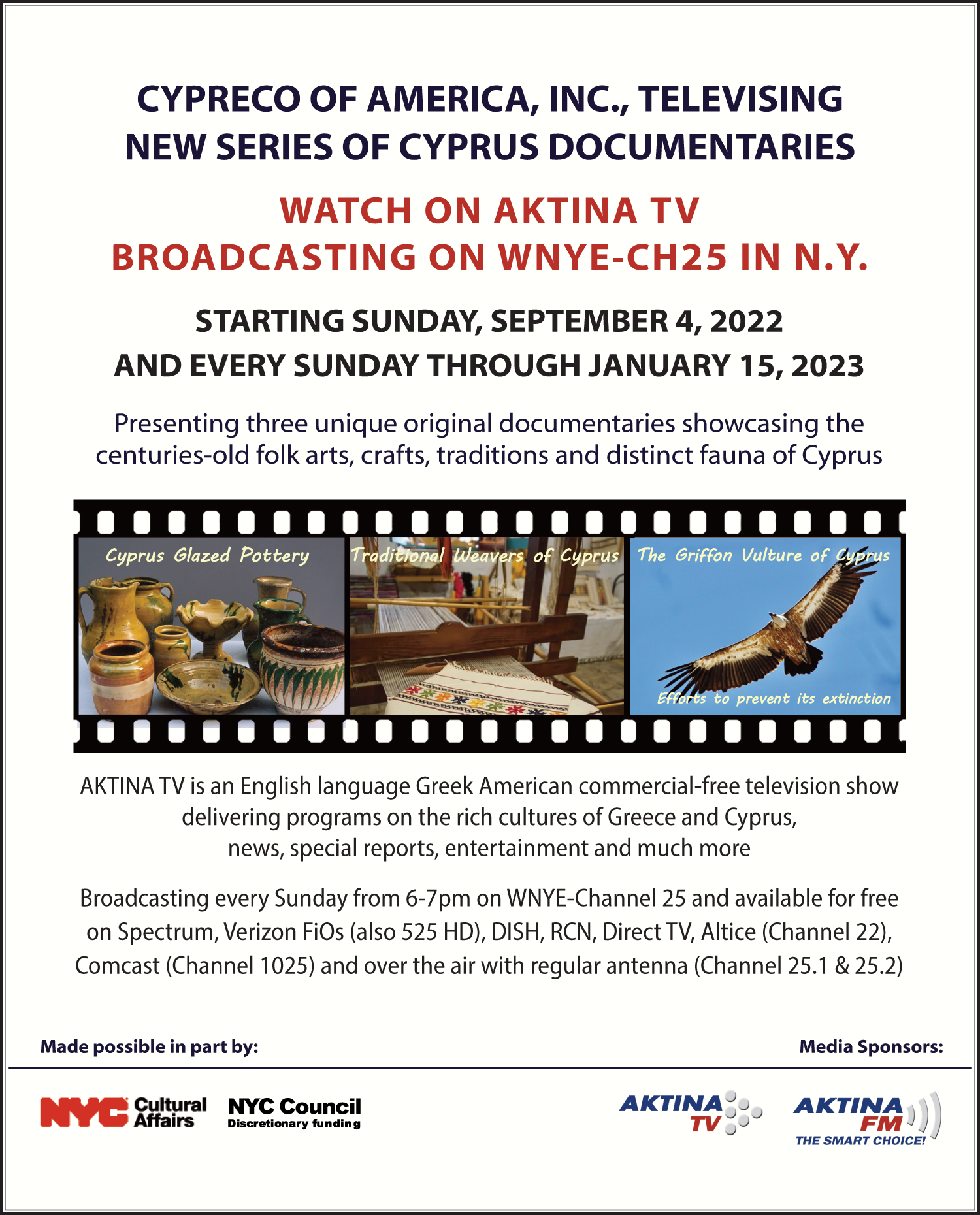 DON'T MISS ON AKTINA TV!
THREE UNIQUE CYPRUS ORIGINAL DOCUMENTARIES OFFERED BY CYPRECO
Starting Sunday, September 4, 2022 and every Sunday through January 15, 2023, CYPRECO is televising on AKTINA TV, broadcasting Sundays from 6pm to 7pm on WYNE-Channel 25, three unique Cyprus documentaries for the benefit of Greek Cypriot Americans, Greek Americans and all New Yorkers. At the comfort of their home our audience will enjoy and learn about the unique craft of making the famous traditional Glazed Pots and Hand-Woven Embroideries of Cyprus and also discover the Griffon Vulture of Cyprus, one of the most distinct birds on this Mediterranean island and the efforts underway to prevent its extinction. Each documentary will be presented as a series in 15-minute increments during each AKTINA TV broadcast. All documentaries include English sub-titles. The televised presentation of these documentaries is made possible in part by The New York City Department of Cultural Affairs and Discretionary funding from The New York City Council.


CYPRECO of America, Inc., has been collaborating with AKTINA TV several years now in order to televise on this highly rated and popular TV Show different documentaries which showcase various aspects of the unique culture and folklore of Cyprus and Greece.


AKTINA TV, creates and delivers original commercial-free content in English and in Greek which informs, inspires, enlightens, entertains and enriches the knowledge about Hellenic culture, about Greece and Cyprus. During its weekly broadcasts, AKTINA TV also delivers local and international news, news breaking stories and special reports, community oriented programs on the life and activities of the Greek and Cypriot American community, life in New York, entertainment and other unique programs. AKTINA TV offers close captions for all of its English language programs and English sub-titles for all of its Greek language programs. AKTINA TV is a non-profit and commercial-free English-language Greek American TV Show broadcasting since 2002 on New York's public station WNYE-Channel 25. The channel is available for free and without any subscription and it is also carried by all major cable and satellite networks in New York City, New Jersey and the outskirts of Pennsylvania. Read more about AKTINA TV and see carriers here.